About The Firm
True Compassion is the Foundation of Everything We Do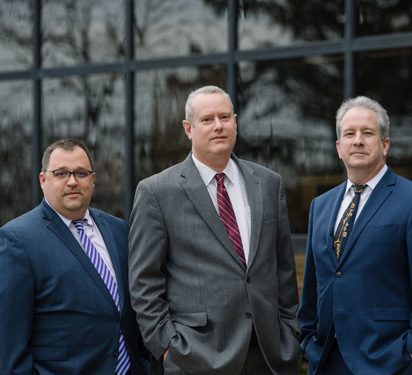 Most attorneys will say they care about your case, but then put it in a file cabinet and not look at it until weeks later. At The Attkisson Law Firm in Dayton, we actually care about your case, but we also care about you—the person behind the case. We pride ourselves on getting to know our clients, listening carefully to their stories and needs, then putting everything on the line to make sure they get the full and fair compensation they deserve for their accident injuries. You can expect nothing less from our firm when we handle your case as well.
Though we may be known as tenacious litigators in the courtroom, we will show you true compassion at every turn. Whether you're meeting us for the first time at your free initial consultation or we're getting ready to wrap up your case, you can feel confident in our representation because it treats you like a team member and a friend in need.
"You will always come first, you will always be treated with respect, and you will always have dedicated legal counsel you can turn to when you need it. That's our promise to you."
Proud Of Our Values & Principles
The Attkisson Law Firm in Dayton, Ohio is focused entirely on personal injury law and our clients. We let you work directly with one of our attorneys, so you can feel like you are a part of the process. If you would rather rest and not deal with legal procedures, then that is fine, too. We would be happy to handle as much of your case as possible on your behalf.
Meet Our Team
To maximize your comfort, we make meeting with our attorneys simple. You can arrange a same-day appointment if you need answers right away. In case you cannot leave your home or hospital room because of your injuries, we can travel to you. No matter what, your first consultation with our law firm is always free with no obligation to sign us as your legal representatives.
We will travel to you
A personal injury focused team
Work directly with our attorneys
Same day appointments
Compassionate in our approach
Over 50 years of combined trial experience
Trustworthy Attorneys in Your Hometown
Our team works on all types of personal injury cases, from car accidents to slip-and-fall accidents. If you get hurt because of someone else's negligence, then we would like to hear from you to see if we can help.
You deserve to be fully compensated for all of your damages. In the average personal injury claim, there are medical bills, property repair costs, lost wages, and pain and suffering damages. For decades of combined legal practice experience, our attorneys have been calculating fair compensation amounts for people just like you, pursuing closure in or out of court.
Learn more about our attorneys by browsing their profiles or by calling 937-918-7555.